Description
Download – Namek UTM Firewall Brochure
Namek UTM Firewall Features:
Stateful Firewall
Interface based Rules
Control routing between interfaces
Protect your network from hackers
NAT / Port Forwarding
Many to One NAT for Port forwarding
One to One NAT to use multiple IP addresses on a single WAN connection
VPN
Remote access VPN: Unlimited VPN clients available for PC / Mobile
Site to Site VPN: Connect your branch offices to your head office for intranet access over any internet connection
Dynamic DNS
If you don't have a static IP, but need to configure VPN or port forwarding for various applications like DVR, Web, FTP
You can integrate our firewall with many popular dynamic DNS providers Like N-IP or DynDNS
WAN Load Balancing
Multi-WAN Load balancing to use multiple ISPs at the same time (either in failover or load balancing mode)
Combine multiple WAN links
3G / 4G Support
Web Filtering Options
Multiple Web Filtering options:
Using Built-in Web Proxy for content filtering
Using DNS based filter like OpenDNS for easy to use high performance Domain based filtering
Captive Portal
This feature allows you to force login via username / password or voucher code.
This is commonly used on Wi-Fi hotspot networks (malls, coffee shops, hotels, airports)
System Graphs Various System Graphs:
Memory usage
CPU usage
Packets per second (PPS)
Realtime Traffic Graphs
Interface Statistics (IN / OUT)
Two Factor Authentication
Provide Secure Internet Access with username / password + OTP
OTP can be generated using Google's Authenticator App. Available for Android / iOS / Chrome / Windows
Auto backup to google drive
Hassle free automatic firewall configuration backup to your Google Drive account.
Backup multiple versions in case of a system reinstall.
Mobile Optimized User Interface
Configure the firewall using any mobile device with a smaller screen.
Provides easy configuration access for administrators travelling or out of the office.
Bandwidth Reporting
Detailed information like packet flows including source, destination ip and port number
Export usage reports to CSV files
Bandwidth Reporting based on Cisco's Netflow Protocol
No Subscription Fees
No Annual subscription charges
No licensing fees
Support available on an annual or per-call basis.
Lifetime Free OTA Updates
Lifetime free security updates
Lifetime free software / features updates
Completely vendor neutral.
Customizable Software
Extend the functionality of the firewall beyond the core components through the use of plugins.
No User Limit
No defined user limit
Capable of 300+ users with 4GB RAM
No user-based pricing
Lowest Price to Performance Ratio
Supports a very large number of users (800 – 1500 concurrent users) For a very low price
One time purchase
Lifetime free updates
Open Hardware
Upgrade RAM / SSD at any time
Upgrade or even replace the operating system at any time
Dual storage options – mSATA SSD + 2.5″ SATA HDD
Power Efficient
It consumes only 10W of power
Uses Standard 12V DC Adapter
Highly Reliable
Premium Aluminum Chassis for better cooling
Supports 24×7 operation in a variety of conditions
Open Source
An Open Source software product provides best in class security
No single vendor dependency
Reliability and long term use
Technical Expertise
Over 13 years of experience in IT Security Industry
More than 500+ firewalls deployed at compaines of all sizes
Technical Support available for a variety of network scenarios.
Various Use Cases
Our firewalls are being used in a variety of scenarios:
Web Filter
Load balancing and failover
VPN for site to site connectivity
Providing secure
Wi-Fi access at hotels to guests
Easy Returns
Get easy returns all over India.Call technical support and log a return request
Send your faulty device to our head office.
After inspection, a replacement device will be shipped within 72 hours.
Models: UTM 150B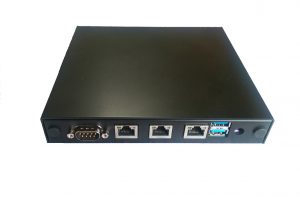 Max Firewall Throughput – 800+ Mbps 
Max Concurrent Sessions – 4,000,000 
Suggested Number of Users –  Depends on configuration 
Network Interface – 3x Intel Gigabit NIC 
Max VPN Throughput – 50+ Mbps
Storage – 16GB mSATA SSD 
VPN Users – Unlimited 
USB – 2 x USB 3.0 Ports for 3G / 4G 
Weight – 0.85Kg
Power Consumption – 6W – 10W 
Firmware – Open Source firewall operating system
Warranty – 1 Year Hardware warranty
Models: UTM 200C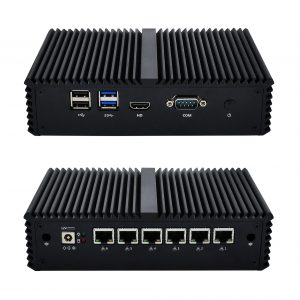 Max Firewall Throughput – 1+ Gbps 
Max Concurrent Sessions – 4,000,000 upto 16,000,000 (with 16GB RAM)
Suggested Number of Users –  Depends on configuration
Network Interface – 6x Intel Gigabit NIC 
Max VPN Throughput – 75+ Mbps
Storage – 32GB mSATA SSD + optional HDD
VPN Users – Unlimited 
USB – 2 x USB 3.0, 2x USB 2.0 Ports for 3G / 4G OS Installation
Weight – 2Kg
Power Consumption – 15W 
Firmware – Open Source firewall operating system
Warranty – 1 Year Hardware warranty
Models: UTM 300A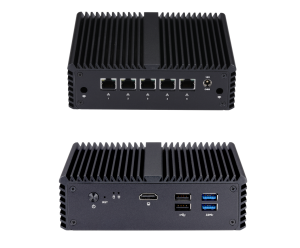 Max Firewall Throughput – 2+ Gbps 
Max Concurrent Sessions – 4,000,000 – 32,000,000 (with 32GB RAM)
Suggested Number of Users –  1,000
Network Interface – 5x Intel Gigabit NIC 2.5GBPS 
Max VPN Throughput – 200+ Mbps
Storage – 32GB mSATA SSD + optional HDD
VPN Users – Unlimited 
USB – 2 x USB 3.0, 2x USB 2.0 Ports
Weight – 1.5Kg
Power Consumption – 10W 
Firmware – Open Source firewall operating system
Warranty – 1 Year Hardware warranty